Transformation Team members tour Campbell Middle School before a meeting about what is needed for creating a quality PreK-through-8 school here.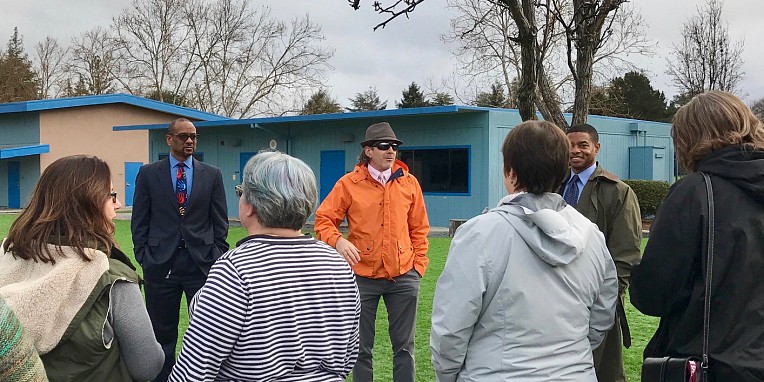 On February 16th, Superintendent Eric Andrew provided the Governing Board with an update on preliminary progress with transforming Campbell Middle School (CMS) into a PreK-8 school.  The following is a list of key points.
What Work has the Transformation Team done?
Developing Guiding Principles
Developed an Internal Communication Structure
Developed an External Communication Structure
Toured the Campbell M.S. Facility
Developed a Transformation Team (TT) Meeting Calendar
Developed a Transformation Leadership Team (TLT) Meeting Calendar
Developed a Tentative Timeline
What are the Transformation Team milestones?
1.   In March: Select a Transformation Model
a.  "Pull Off the Band-Aid" Approach – Close the school
b.  Phase Out – Remaining grades permitted to promote to high school
c.  Phase In/Phase Out – Upper grades promote to high school; lower grades enrolled simultaneously
2.   March 23: Community Input Meeting (TBD)
3.   Late March: Visits to Existing K-8 Schools
4.   In April: Start Design/Theme
5.   May 23: Community Input Meeting (TBD)
6.   June 1: Plan Presented to the Board
For more details, please visit our School Transformation web page.