Halloween Parade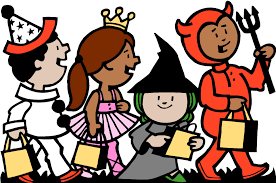 We will be having a Halloween Parade at the school on Wednesday, October 31 at 8:15 a.m.  Students may wear their Halloween costume to school that day OVER THEIR uniforms.  After the parade students are expected to be in their uniform for the rest of the day.
Costumes are not to include weapons, blood, Creepy Clowns, or attire inappropriate for small children (nothing sexy or exceptionally gruesome).                                
Parents are of course welcome to join us for the parade on the blacktop near the basketball area.
 A teacher will be in the library during the parade with the students who do not participate in the Halloween activities.  Do not keep students away from school on this day.  Classroom instruction will take place in all classes after the parade and your child will miss important learning if they are absent.